千春と3人の子供たち、オーストラリアへ行く!

2000.02.19~07.22の5ヶ月間余り、ビクトリア州ベーンズデールの田舎町へ。
千春は公立中高、Bairnsdale Secondary Collegeで日本語教師ボランティアアシスタントをしました。悠仁、晃平、美月は現地の公立小学校(Lucknow Primary School)で学校生活を楽しみました。
本当にちゃんとやっていけるのだろうかという不安は無きにしもあらず、でもどうしても行って生活してみたかったAustralia!帰国して時が経てば経つほど、私達にこんなにすばらしい時間と空間と体験を下さったオーストラリアの人達、 チャンスを与えて下さったリンクプログラムのフォーサイス幸子さん、励ましのエールを送ってくれた友達や身内、みなさんに心から感謝します!
今思えば、かなり無謀な試みでもありましたが、ほんとうに行けて良かった!貴重な体験、すばらしい思い出、これからも頑張っていける勇気と自信をくれた暖かいオーストラリアの人達に出会えて幸せでした。
そして、このオーストラリア行きを応援して励ましてくれた夫の久典にも感謝!!!

Chiharu,Yuto , Kohei ,and Mitsuki went to Australia ! We lived in Bairnsdale from Feb.19 to July.22 in 2000. Chiharu worked as a volunteer Japanese language assistant at Bairnsdale Secondary College.Yuto,Kohei and Mitsuki enjoyed the school life at Lucknow Primary School.


This was the first experience for me!I am riding a horse with Sandra's sister,Bellinda. (KOHEI)

At school.Emilie helped me a lot in my class every Friday afternoon,because she can speak Japanese.My classmates and I love her very much!(MITSUKI)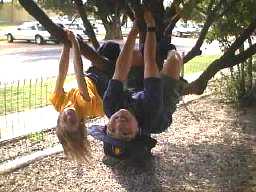 Hanging on a tree .(KOHEI)

With my classmates and Ms.Murray. I love them very much!(MITSUKI)

With my friend, Lauri.(MITSUKI)

In our yard. With our cousins (Eri and Sumie)costumed in clown and Emilie costumed in YUKATA, ,and Anna.We got dressed in HAPPI. (YUTO&KOHEI)

With 7P class's girls. I took the Japanese lesson for Year 7P,7M,and 7K.I enjoyed teaching them very much!
I really appriciate that I had such a wonderful chance !(CHIHARU)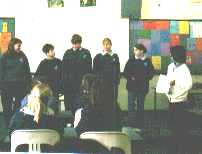 With 7M's students in the classroom.The students were very friendly to me.Thank you!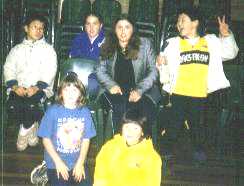 Sandra came to our house to teach us English every Tuesday evening.I think she becomes a lovely teacher in the future! It was enjoyable that she read many picturebooks for us!
We were really happy and lucky,because some volunteer senior college students tutored us and played with us.
Thank you very much,Sandra,Carolyn,Erin,Debbie, Sam ,and Emilie!!
We became that we liked English,thanks to all of you. We like English ,because we love Australia and Australian people!

Sandra took us to her brother David's football game. It was exciting! (YUTO,KOHEI,& MITSUKI)

Sandra's family invited us to their house and farm. I can't believe that the yard and farm are too big!! With Grant family in the bush. (CHIHARU)

This is Grant family,Robert and Lyn, and their children Sandra,Christina,David,and Bellinda.(Sandra was not here at that time,because she went on a trip to China.)

When Sandra's dad Robert took us to wild kangaroos watching,we saw the real emus running!(KOHEI & YUTO)

Robert held me in his arms. (MITSUKI)

This is the house we rented during the stay.
It was an old house with three big rooms and a dining room.There was a nice fireplace, that we 'd never used it before. There was also a big fan on the ceiling.
That became our favorite sooner! The other day Kohei's teacher Ms.Edmonds said to me,"Your house used to be ours long time ago! We designed everything by ourselves including that fireplace."What a coincidence!

There was also a big green house in the yard.Tomatoes and cucumbers had already been there. We enjoyed growing them.

This is the harvest!

When Hisanori came to Bairnsdale to see us, He made a watering system for plants ,
because we had no hose pipe and watering can.And also planted spinich and green onion. (CHIHARU)

B.B.Q.pit! Unfortunately we had no chance to use it.
But we were invited several familis' B.B.Q.It was so yummy and nice!(CHIHARU)

We are playing catch. We loved playing in this big garden !
Mom said,"I like this kind of a laundry pole."

There was a huge acorn tree in the yard !

I am doing the bar on the fence.(MITSUKI)

We are digging a hole for making a pond.It was not successful!(KOHEI)

With our friend Allister.
We often played "POKEMON"cards in our house.
Allister loves "POKEMON" very much! Me,too!!(YUTO)

I sometimes climbed the tree in front of the house.(KOHEI)

We went to Lakes Entrance.
I am running on the seashore. This is the Tasmanian sea.(KOHEI)

I am playing on a long slide in Howitt Park.
This park was one of our favorite. We often walked there on weekend.
It took 20minutes.Kohei loved fishing riverside near the park.(MITSUKI)

Anna and me in YUKATA cosutume. During holidays, we went to Bendigo to see Clare and Jenny whom we had met in Hiroshima before.
We enjyed a lot !
I was always with Jenny's daughter Anna. I love her!(MITSUKI)


Enjoyed rolling hill with Anna.(KOHEI and MITSUKI)


In another holidays Jenny's family (Graeme & Jenny,their kids Luis and Anna)came to Bairnsdale to see us again.
We had a lovely time with them.
We met Jenny's friends Mardi and John.They invited their house.
We felt at home with pleasant talking , delicious lasaguna and tasty wine!(CHIHARU)

At lunch time in school.
I brought lunch box Mum made every week day.
I was happy finding some sweet and snack in lunch box.
My friends in Japan envy me,because there is no sweet and snack in Japanese lunch box.(MITSUKI)

On bike education day with my friends.
We learned how to ride bike safely at school.
During the week we went to school by bike.
We borrowed the bikes from Thomas and Corey.Thank you ! (KOHEI and YUTO)

This is our school,Lucknow Primary School!(MITSUKI,KOHEI,&YUTO)
I really think They are happy and lucky that they went to Lucknow Primary School!
The staffs and teachers are very kind and nice with warm heart. The kids are very friendly,natural, and gentle...
I greatly appriciate all the kindness in Lucknow Primary School!(CHIHARU)

In the computer room.
It is fun!!(MITSUKI)

In my classroom.
I go to nursery school(kinder) in Japan,because we start school from six.
So,this was the first time going to school for me.
In first three days I was crying all the day ,because everything was new for me!I felt scared.
But on the fourth day, I cried just a little.
After that I never cried anymore,because Mrs.Murray and my classmates were very kind ...
I became to love Mrs.Murray and my classmates.


With Yuko,Eri,and the friends.
We met two Japanese assistant teachers in Lucknow.P.S. (MITSUKI)

With my friend,Ben.
He often came to my house to play with us.
We enjoyed playing "Guess Who?" game.(KOHEI)

My friend,Crista.(KOHEI)


Yuto's teacher Ms.Norling, took us to the cattle selling. We were surprised that we saw such many cattle.I felt a little bit sad ,because all of them shall be sold and eaten.(KOHEI)

This is Alice,who is Mrs.Noling's daughter.
I heard Furby is her birthday present.
I got the same Furby speaking English on my birthday!
I want to show it to Alice...(MITSUKI)
Paulette(Mrs.Norling)and Mark invited us to their tea several times.
It was very nice! They also took us to the cattle selling, milking cows!
I tried to drink the fresh milk. It was strong and nice!
We love their gentle smiling face !!I learned a lot from them.We spent happy time with Norling Family!
Thank you!(CHIHARU)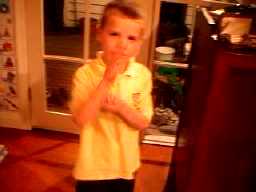 Etsuko,who is L,O.T.E. teacher at Secondary and Senior College,and Sean ,who is also a teacher at the same school,looked after us and did much for us so much! They took us wonderful places many times.We went to Buchan cave,Lakes Entrance,another school's festival, and so on...
We stayed their house with nice tea several times,and went to Lymond iland to look for wild koalas.
We like playing catch with Sean.Sean is like our Dad in Australia.
Etsuko is my mum's teacher.(KOHEI)

Liz,who is an art teacher in Secondary College, invited us to her afternoon tea.
It was nice!There is some furniture which her husband made.
There are also several antique furnishings. We enjoyed chatting with yummy cake and tea.(CHIHARU)

Hisanori came to Australia to see us twice.
He enjoyed mowing a lawn.Our next door neighbor lent the mowing machine to us.
After that,he had a muscle ache. (CHIHARU)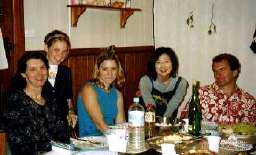 This is Hartley family!
They also did much for us!
They invited us to their B.B.Q.and tea several times.
We love Jane's yummy cake and cookie!
My kids love staying at their house.Kohei was happy that he could play video game with Thomas. Yuto was happy that he played "POKEMON CARD" with Thomas. Mitsuki was happy that Emilie , Anna ,and Chie,who was Japanese lady homestayed at Hartley for three months,played with her.
And They were also happy there were a lot of pets.Cats,a duck, a turtle,and fish... Whenever some troubles did happend,we relied on Dad Ron. I remember when I left the key in the house locked all the doors!
I ran to Ron's house ,and Ron came to our house to open any windows holding his tool box!
Ron cut woods in the bush for us.
When The gas of tank 's gone,he told me how to do.
Mistuki was happy playing with a big doll house that Ron made..and so on.... Thank you ,Hartley family!

With Kaori on the day leaving Bairnsdale.
Kaori teaches Japanese as a Japanese assistant at Lucknow Primary School.
She helped my kids and did lots for them,since Yuto,Kohei,and Mitsuki had lerned English little.
She worked with my kids on a daily basis to assist them with translation, while teaching all of classes Japanese.
It was fun staying some days during the holidays with her.
Thank you,Kaori!(CHIHARU)

This is my teacher Ms.Edmonds!
I was very happy because she paid me lots compliments and encouraged me lots.
I became to know I can do ! Ms,Edmonds always has happy atmosphere.
I like her singing and dancing!(KOHEI)

With my fourth teacher Ms.Sherry and my classmates.
Ms.Sherry is beautiful and kind. I sometimes brought "POKEMON"cards and played cards during recess.
In Japan it is not allowed to bring any toys and cards.
My Japanese friends envy Australian friends very much! (YUTO)

Before leaving Australia,we went to Sydney where my Japanese friend Tomo lives with her family.
We stayed at her flat for three days.
Sydney is much different from Bairnsdale.
We enjoyed the city view,her cooking and chatting with her and her husband Makoto.
My kids enjoyed playing with their lovely kids Atsushi and Moe.
(CHIHARU)
The biggest event was going to the Taronga Zoo.
We love wombats!!
We saw the wild kangaroos,emus,and koalas before leaving Australia.
But there was no chance to see wombats before then.
We did it! We were successful seeing the wombats.
How can I describe? It was very cute anyway!


I am sorry. Since I missed taking photos all of you who did much for us,
I couldn't put the photos on this page.
I'd like to say thank you to Lisa,and her Dad Ron .You always took thought for us and encouraged me.
Your birthday party was really fantastic! Ron carried back the furniture we had lent to the owner.Thank you!

I also met the lovely Japanese people in Bairnsdale.Not only Kaori, but also Yuri, Yuka, Chikae,Miho,and Chie were enjoying their stay as a Japanese assistant or an exchange student.
You encouraged me a lot! thank you!!

Etsuko called for the staff to lent the furniture and goods we needed.
Almost the things were sufficient,and we lived comfortable life!
You saved our days,thank you,the staffs in Secondary Colledge and Lucknow Primary School!


How lucky and happy we were that we met all of you!! And all experience we got here is our treasure in our life foever! Thank all of you with a big hug from us all!!!



---
back to home